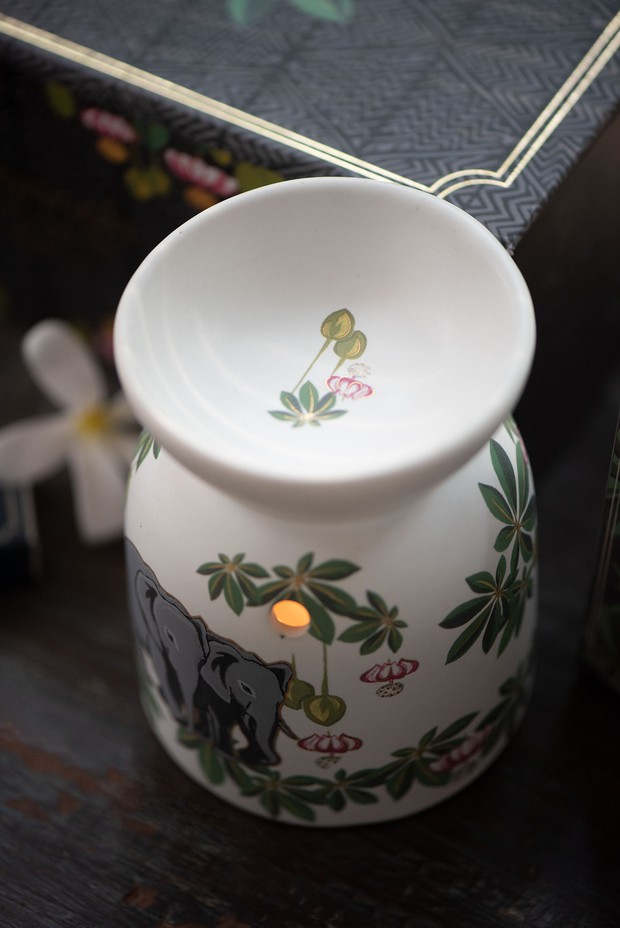 Savnnah Aromatherapy Gift Set
Check in-shop availability
PRODUCT DETAILS
Description: Inspired by the majestic flora and fauna of the Savannah region in central Africa, our Savannah aromatherapy set features a ceramic fumer with hand-drawn motifs of giraffes, elephants and baobab trees. It comes in a beautifully illustrated gift box , tealights and our Savannah Aroma Blend- a blend of natural essential oils with notes of Cypriol, Ylang-Ylang, Clove bud, Guaiacwood, and Palmarosa 
Design: Designed to release the aromatic fumes of aroma oils. Pour 10-15 drops of aroma oil into some water on top and light a tealight in the holder below. The warmth from the candle helps release the aroma while the vibrant design of the fumer lends freshness to your space. 
Craft: Bone china ceramic fumer hand-decorated with artwork decals. 
Material: Fumer- Ceramic 
Savannah aroma oil - A blend of Cypriol, Ylang-Ylang, Clove bud, Guaiacwood, and Palmarosa essential oils
Dimensions & Care
Dimensions: Length - 10.4", Width - 5", Height - 4".
Disclaimer: Please note that for all international orders of this product set, we are unable to include the matchbox due to constraints in shipping policy.
Product Care : Clean with a soft dry cloth. 
Shipping & Handling
Shipping within India | Delivery within 7-10 business days
Shipping Internationally | Delivery within 12-14 business days. In some cases custom clearance might take longer. Duties & Taxes are additional (can be upto 30% or more of order value) and need to be paid to the shipping company at the time of delivery.
For more information visit our
Shipping & Payment
Policy.
Vref. I00216961