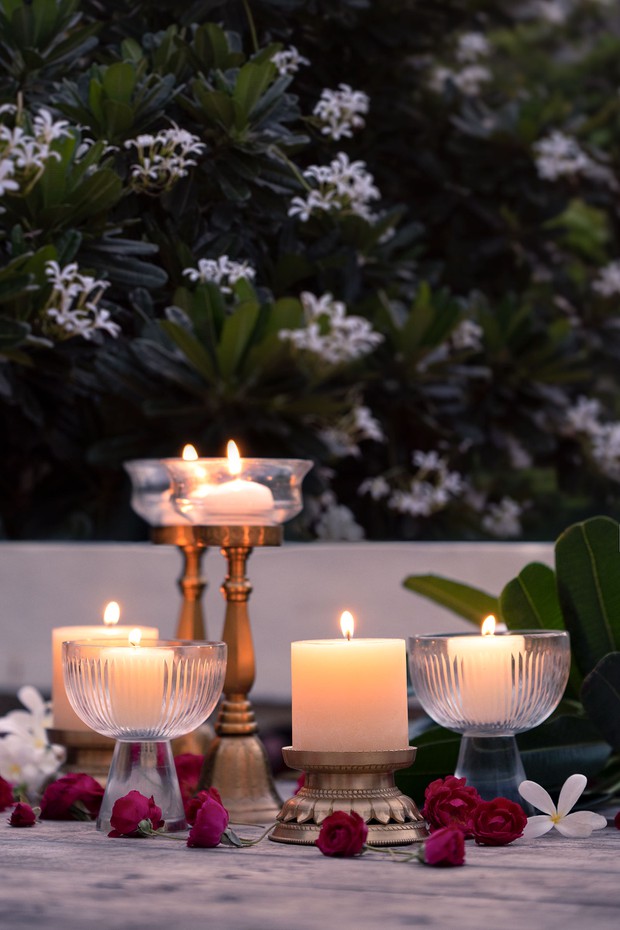 Set of 6- Tradition Of Lights Decor Set
share
PRODUCT DETAILS
Description: Reinterpreting the ancient rituals of light and illumination for modern homes, a handpicked selection of brass and glass accents to bring in the season of festivities and brighten up your living spaces.
This gift set comprises:
Mandala Base (Set of 2)
6 nugget candles
Crystal Butter Lamp (Set of 2)
4 (2X2) scented candles
Cloud Candle Stand (Set of 2)
2 (3X3) scented candles.
Design: The candle base has a shape inspired by that of lotus flower. The crystal glass votive is inspired by the Buddhist tradition of butter lamps. The candle stand borrows from our Gandhara Design Collection, a tribute to the ancient civilisation.
Craft: The candle base is hand-carved in brass and the votive has a crystal finish on hand-blown glass. The candle stand has fine handcrafted details on brass.
Material: Candle Base and candle stand in brass and votive in crystal-finished glass
Dimensions & Care
Dimensions : This gift box contains :
2 Mandala Base (Dia- 4" ; Height- 2.4")
2 Round Pillar Candle - Jasmine, Ivory (3" x 3")
2 Cloud Candle Stand (Dia- 4.3" ; Height- 10")
6 Nuggets Loose, White
1 Crystal Butter Lamp, Clear- Set of 2 (4.3" x 5")
4 Votive Candle Neroli (2" x 2")
Product Care :
Clean with a soft dry cloth and avoid contact with water or moisure.
Disclaimer: Handmade products can vary and carry small imperfections. These irregularities are intrinsic to the process of making products by hand and adds to the items appeal. There may be slight variances in the products like shape/size/weight, even pin holes or pits or antique stains or soldering marks. These are acceptable hallmarks of handmade products. We suggest treating all decorative handmade products with care.
Shipping & Handling
Shipping within India | Delivery within 15-18 business days
Shipping Internationally | Delivery within 18-20 business days. In some cases custom clearance might take longer. Duties & Taxes are additional (can be upto 30% or more of order value) and need to be paid to the shipping company at the time of delivery.
For more information visit our
Shipping & Payment
Policy.
Vref. I00218182